Date posted: 04/04/2012
Get Out & Celebrate Spring in Morro Bay!
Tags: events run arts cars morro bay spring san luis obsipo pirates mermaids
May is a great month to be in hotels in Morro Bay, CA! There are many outdoor celebrations in the beachside city to celebrate the great weather. Be sure to come out and enjoy the fun if you're around! Read below for the details on four May events in Morro Bay.
Crusin Morro Bay Car Show, May 3-6
Every year, approximately 500 cars take part in the popular car show. Registration check-in is on May 3 at 5pm at the Ocean View Garage. Friday, May 4 starts with a cruise up the coast at 11am for lunch overlooking the Pacific Ocean. Saturday consists of a dance exhibition at the Pacific Dance Center, and evening display of cars for a trophy. Participants of the Car Show can participate in an annual ice cream social on Saturday. The car show ends with closing and trophy announcements. Don't miss your chance to see some of Morro Bay's finest cars!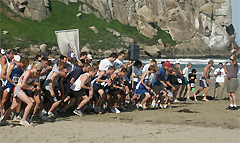 10K Miracle Miles for Kids Walk/Run, May 7
Run for a great cause in beautiful Morro Bay! The 10K race course runs along the water's edge from Morro Rock to the Cayucos Pier. When participants finish, they will be treated to a post-race party including live music, lunch, a diverse vendor fair, children's activities, and awards. Every participant will receive a goody bag that includes a 2012 Miracle Miles t-shirt. The race begins at 8:30am and the post-race party runs from 9am to noon.
Morro Bay Pirates & Mermaids Parade, May 12
The second annual Mermaid and Pirate Parade is aimed at children. Kids from toddlers to 12-year-olds are encouraged to wear their best mermaid and pirate costumes at the Rock. They will walk the Harbor Walk to Dockside II. There are prizes for best costume and goodie bags. Children can meet at 10:30am.
Art in the Park, May 26-28
Memorial Day weekend brings Morro Bay's most popular art fair. 100 local and regional art exhibitors will have tents on Harbor and Morro bay Boulevard. The fair supports Art Center Morro Bay's art scholarships for local high school and college students and programs. For more information, visit the website here.
Have a great time celebrating spring in Morro Bay!
Like us on Facebook!